Change everything, even the kitchen sink
A kitchen fashioned for a couple in the food industry is beautiful enough for a dressier life
Originally posted: Zahid Sardar | Wednesday, March 28, 2007
Sandy Hu's dream of a new kitchen, where she could test recipes and host food experts, swelled like a wave that slowly builds for 20 years.
While she and her husband, Stephen, raised their two sons in a large but oddly configured 1950s home on a pie-shaped lot in San Francisco's Ashbury Heights neighborhood, she secretly hated the small living room with its large veneered brick fireplace on the west side of the house, and the secluded central kitchen with dark wood cabinetry.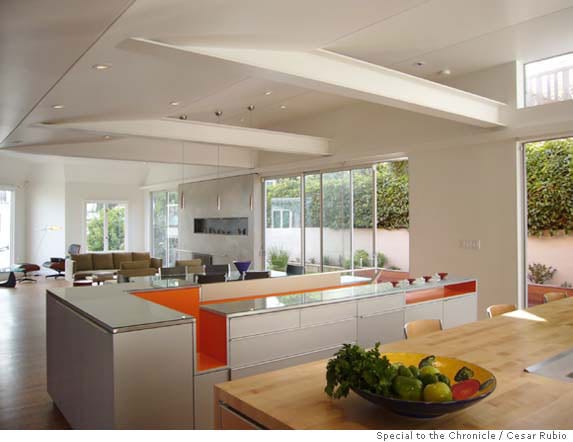 In 2000, when Hu finally initiated her remodeling plan, she did not know it would change modernist architect Andrew Dunbar's career — let alone her own — by the time it was completed last fall.
It is easily one of the best San Francisco kitchens we've spotted because the story of food — from garden to stovetop — is clearly told.
A longtime publicist for food products such as Irish butter and cheese, American potatoes and Beringer wine, Hu and her husband, a former high-tech company financial officer, hired Dunbar, a young architect from Montreal, who recommended relocating the kitchen to the west side of the house.
"They did not really have a kitchen with any relationship with the side garden," said Dunbar.
He anticipated little enthusiasm for the radical idea, but the couple agreed. The thought of renovating the old kitchen was emotional for Hu. The segregated living and dining rooms had always meant that the cook was alone in the kitchen during parties.
"She would cry at meetings — she wanted so much to redo the old kitchen," Dunbar said.
"This was my first San Francisco project on my own," said Dunbar, who had been working for Kuth/Ranieri Architects in San Francisco. Amid the exhilaration of the challenge of the project, Dunbar's firm, Interstice Architects, was born. And since Hu was his sole client, he had time to create the perfect kitchen.
"They are both foodies and like to cook and entertain," said Dunbar, who even volunteered to cook with the Hus one night to understand what kind of space they'd want.
On the west side of the house next to the garden, they tore out the walls between three dingy rooms, freeing 1,200 square feet that would become an open living, dining and kitchen space. Dunbar designed 9-foot-high French doors with clerestory windows that opened onto a decked courtyard flanked with beds of herbs.
The wedge-shaped house has several problems. In the middle of the new loftlike space, an internal stairway leads down to the basement. It was too expensive to remove. Instead, by wrapping shelving and cabinetry around the railing walls, Dunbar camouflaged it, so now it looks like a piece of furniture and creates a divider between the living area and the kitchen.
"The new space has become a space of living with visual connection to each room and the garden," said Dunbar. "Now they have the lifestyle they love but did not have the right space for."
With its new relationship to the garden and its use of practical appliances and surfaces, it is a hardworking yet elegant kitchen.
Hu wanted a large, deep sink to wash pots in (she despises compartmentalized sinks) and the best appliances they could afford. Dunbar calls them the "yum-yums" he was able to get within their $250,000 budget: a Wolf range and hood, a Sub-Zero refrigerator and freezer, and a quiet Bosch dishwasher. "I would have liked a drawer freezer, but that was too expensive," Hu sighed.
"I wanted a functional kitchen, but the aesthetic was very important," said Hu, who uses her kitchen to experiment with the products she promotes.
"Food cannot be understood in an office. You have to be able to cook with it and play with it. It has to be in the context of the kitchen," Hu said. "How you use the product allows you to market it correctly."
She also wanted a place for every object. "I learned that in interior design classes at Parsons many years ago. If everything has its place, you can make things neat. I am not the neatest person in the world."
That meant designing plenty of cabinets and drawers. To avoid making them seem oppressive, Dunbar used no overhead cabinets. He knew that the kitchen would be visible in its new open configuration, and "we did not want the kitchen to be recognizable as such."
Dunbar used a variety of materials — plaster on the inside and outside walls, stainless steel for backsplashes, aluminum for kitchen counters — that function well but could seem clinical without visual relief.
Dunbar contrasted these tough surfaces with paint on the cabinetry and on the wrapped stairwell. Matte aluminum Mercedes-Benz paint sprayed onto fiberboard cabinetry contrasts with bright orange automobile paint in the stairway console.
"I wanted a color that you could taste. Orange has that synesthetic quality. You can taste it — a real orange with a flavor. I told them that, and that's what it became," said Dunbar.
A back kitchen wall is covered with white Subaru paint. "The cabinets have a car name and date for color swatches," said Dunbar with a laugh.
"I had never used automobile paint, and I am not sure I'd do it again. It is too brittle for a kitchen," he said. Next time, it's real aluminum for the cabinets.
Not everything is new. The old oak floors were patched and stained dark. The hated fireplace was updated by removing the brick veneer and creating a stucco-clad surround that covers the whole wall.
"They had a high mantel over a brick box, and it made the room look small. The way to make a big thing disappear is to make it bigger," Dunbar said.
By spreading the surround's plaster veneer to cover the entire wall, the actual small opening for the fire defines the scale of the fireplace.
Now that Hu's expanded kitchen has become her de facto office, she has butter tastings and the like when she isn't cooking for guests, who stroll up to the maple-topped island to help. Now she gets help in devising recipes to promote Irish dairy products.
"We've invited top chefs such as Joyce Goldstein and Roland Passot to test how our products compare with others in different applications," said Hu.
A recent recipe-contest judging meant that Hu's spacious open kitchen became the focus of lots of activity, with several chefs comfortably testing recipes together.
"It is a great space for my business. Even if I have a quiet meeting there, clients understand how it will help them in the work I do for them. It shows that I believe in food."
The Hus now use their new living space pretty much every day and hardly use the rest of the house.
"It has been so transforming. It even changed the way we entertain. It is a lot more fun when people walk over to the butcher block for hors d'oeuvres instead of being relegated to the living room," said Hu.
"When I am still in bed in the morning, I can hear a latte being made in the kitchen," said Hu. "I start to salivate."
For the coffee or the kitchen?
Building a Dream Kitchen
The kitchen featured on my Web site is my own, and was born after years of dreaming, more than a year of planning and another year of construction. The kitchen serves as my test kitchen as well as a home kitchen, so it has some features specific to a professional kitchen, but also a number of features that make a consumer kitchen more functional.
If you're building or remodeling a kitchen, consider these features:
Extra-large refrigerator. My refrigerator is a full 35 inches wide, with no freezer. With this capacity, I am able to store client products for testing and food photography. It's also great for a dinner or cocktail party, enabling me to store all the ingredients I need for cooking and to use large platters in advance.
Small under-the-counter freezer. If you cook the way I do, you use mostly fresh ingredients anyway. So why do you need a big freezer? We have a full-size freezer in the garage for long-term storage; for day-to-day needs, the small freezer provides ice, a place to pop a tart crust before baking and a convenient repository for a few leftovers.
Large and deep sink. This is important for prep work and to be able to "hide" pots and pans in a big production kitchen. The idea comes from Jan Weimer, whose 1997 book "Kitchen Redoes, Revamps, Remodels & Replacements," is still a must-read for anyone considering a kitchen project. A former executive food editor of Bon Appetit, Weimer is a restaurant consultant and former chef. She understands what it takes for a kitchen to be truly functional. Her advice is timeless. (If you'd like to work directly with Weimer, she does kitchen design consulting in person in Southern California, or by fax or e-mail outside the region. Just send me an e-mail to get in touch with her.)
Deep drawers instead of cabinets. It's much easier to reach down into a drawer than to open cabinet doors and search for that pot, pan or rolling pin.
Floor-to-ceiling spice rack. This very shallow closet enables all the spices to sit in nice, alphabetical rows. When the door is closed, the spices are kept in the dark, the better to prolong their color and potency.
Small pullout pantry. Built to the side of the range, this pullout drawer has two wire racks to hold a selection of oils, vinegars, salt and all the other seasonings used in daily cooking, keeping the counter next to the range free of clutter.
Zahid Sardar is the Chronicle design editor. E-mail him at zsardar@sfchronicle.com.